The 21-Year Fight to Bring Down Project 100%
How Legal and Community Advocacy Ended San Diego County's Fraudulent "Anti-Fraud" Program

%3Ciframe%20allow%3D%22accelerometer%3B%20autoplay%3B%20clipboard-write%3B%20encrypted-media%3B%20gyroscope%3B%20picture-in-picture%22%20allowfullscreen%3D%22%22%20frameborder%3D%220%22%20height%3D%22315%22%20src%3D%22https%3A%2F%2Fwww.youtube.com%2Fembed%2FjaCNkvdcL1g%3Fautoplay%3D1%26version%3D3%26playsinline%3D1%22%20title%3D%22YouTube%20video%20player%22%20width%3D%22560%22%3E%3C%2Fiframe%3E
The 21-Year Fight to Bring Down Project 100%:
After causing tens of thousands of struggling families misery and humiliation for more than two decades, San Diego County's invasive Project 100% or "P100" program ended on April 6, 2021, with a swift, decisive and unanimous vote by the Board of Supervisors.[i]
When she heard of the demise of P100, Joni Halpern, former executive director of Supportive Parents Information Network (SPIN) and an early opponent of the flawed program, said, as she was trying to hold back tears: "I could have cried. Because when you work with poor people all your career, you see what they go through, you see the humiliation…Then, a victory like this is big. It's big."
The ACLU of San Diego & Imperial Counties (ACLU-SDIC) challenged the legal merits of P100 almost from the beginning. It ultimately took a collaborative, integrated advocacy approach involving Halpern's SPIN organization, two lawsuits, courageous plaintiffs and witnesses, political advocacy and organizing, and the Black Lives Matter movement to create the climate necessary to eradicate the program. 
Intrusive, Unnecessary and Unfair
Since its inception in 1997, the P100 dragnet ensnared families experiencing poverty who simply sought to access public resources.
Under P100, families applying for CalWORKs (California Work Opportunity and Responsibility to Kids) financial assistance were required to submit to unannounced, unwarranted and suspicionless home investigations and often home searches performed by law enforcement investigators.
As part of the allegedly anti-fraud program, P100 home investigations were conducted when a CalWORKs application contained no signs of fraud. Other anti-fraud measures kicked in if an application raised red flags.
Applicants risked a denial of benefits if they weren't home when investigators arrived. Essentially trapped in their homes, people experienced stress and anxiety and reported feeling like they were under house arrest. Some missed job interviews and doctor appointments. Some were afraid to leave their homes to take their children to school.
The searches could be intrusive and humiliating. Investigators would often comb through every nook and cranny of a home, including laundry bins, cupboards, trash cans, bedrooms and bathrooms, as well as deeply personal items such as letters from a former spouse.[ii]
These intrusive, unnecessary and unfair hardships primarily impacted women and people of color, who are disproportionately represented among CalWORKs applicants.[iii]
Families were denied crucial benefits for reasons that could only be described as biased, as investigators were often determined to find fraud where none existed. Investigators regularly "discovered" purported "evidence" — an extra toothbrush, boxer shorts, extra-large t-shirts or boots — to support their predisposition that single women were relying on unreported sources of income.
Investigators were frequently aggressive and insensitive to women during the searches.
"Some of the stories were pretty frightening for single women. One inspector went through drawers and pulled out delicate items and scared her [the CalWORKs applicant]. Another one had accused her of having the father of her child in the home when it was her brother," said Gerardette Nutt, a CalWORKs program specialist at Grossmont College.
Nutt added that some women withdrew their applications "because they just felt totally invaded and uncomfortable and did not feel safe."
'A Disparate Treatment'
In 2000, the ACLU Foundation of San Diego & Imperial Counties (ACLUF-SDIC) filed its first lawsuit against P100. Another suit followed in 2018.
The first lawsuit, Sanchez v. County of San Diego, included SPIN members as plaintiffs. The suit claimed that P100 violated various state and federal laws.
The ACLUF-SDIC, along with the Western Center on Law & Poverty and San Diego Advocates for Social Justice, fought up to the U.S. Supreme Court; but, in November 2007, the court declined to hear the case.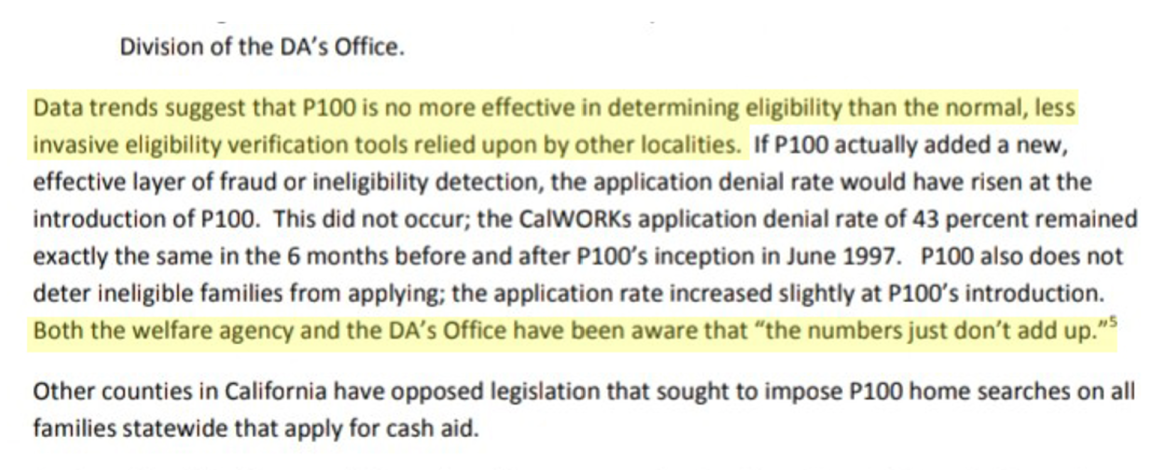 In 2014, attorney and Soros Justice Advocacy Fellow
Hilda Chan
authored a
report on P100
that proved the county had inflated the efficacy of the program for many years. Chan's research and advocacy efforts led the county to begin recoding its data.
When properly coded data was finally released, it became clear that P100 was ineffective at detecting or deterring fraud. As Chan said, "It's ironic. The very law enforcement agency that was there to catch fraud was committing fraud all those years."
Chan's report inspired the ACLUF-SDIC's second legal challenge to P100. With Fish & Richardson P.C. as co-counsel, the ACLUF-SDIC filed Villafana v. County of San Diego in California state court in 2018.
This case argued that P100 violated a California law that prohibits state-funded programs from discriminating on the basis of race, sex, and other protected characteristics, whether by disparate treatment or disparate impact. This suit was lost when the California Supreme Court declined to review a lower court's decision in favor of P100.
"While we didn't win in court, I think the [ACLUF-SDIC] legal cases kept P100 in the public eye for years. I think it helped generate the political will to get rid of it," said Jonathan Markovitz, ACLUF-SDIC staff attorney and a lead lawyer in the 2018 lawsuit. "But I also think that the end of the program was very much tied to Black Lives Matter. I think that in the past year, or the past few years, the possibilities for fighting for racial justice and for understanding the nature of racial oppression have just shifted."
People Power Pays Off
Despite the persistent legal efforts made by the ACLUF-SDIC and private attorneys, P100 was ultimately brought down by a change in the political makeup of the San Diego County Board of Supervisors.
For years, Invest in San Diego Families (ISDF) and other community organizations and leaders have advocated for investments in community services and for government accountability and transparency.
Their hard work paid off after the 2020 elections.
Supervisors Terra Lawson-Remer and Nora Vargas swept into office as part of a growing progressive electorate in the region.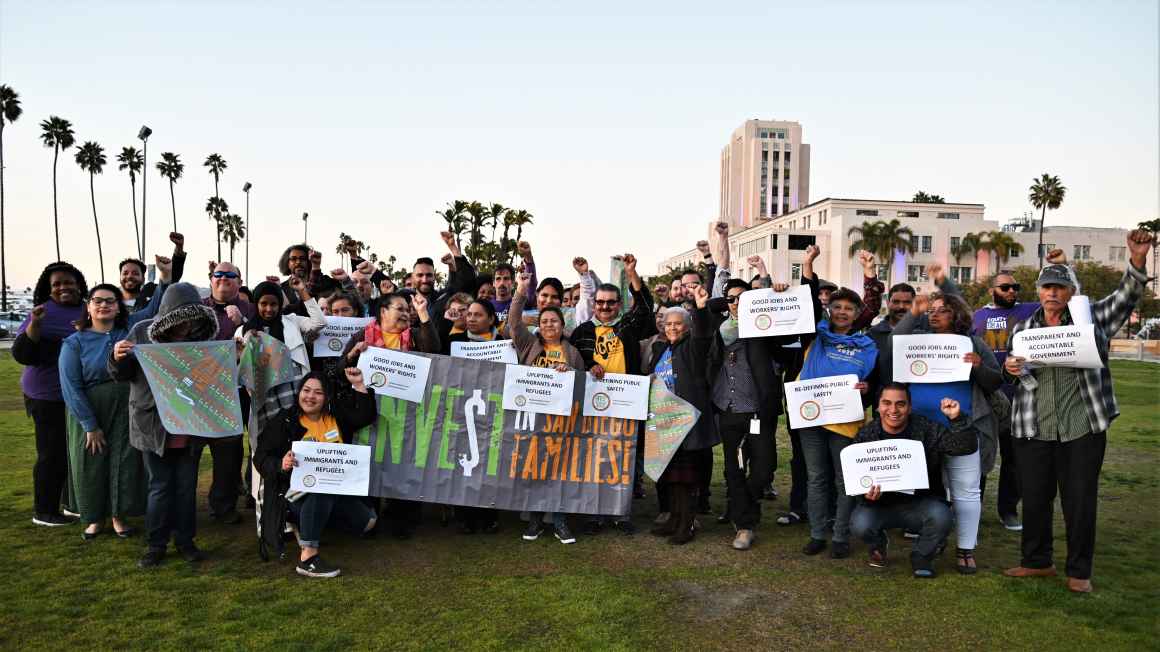 Working as part of the I

SDF

coalition, the ACLU-SDIC's advocacy and organizing team took the battle against P100 from the courtroom to the court of public opinion.
After learning about the program from our advocacy team, Lawson-Remer and Vargas quickly brought a motion before the Board of Supervisors to eradicate it.
ACLU-SDIC organizers mobilized hundreds of people to support the motion — many waiting nearly 14 hours to provide live testimony by telephone.
A Historic Victory
Lawson-Remer said ending programs such as P100 was an effort to improve access to public assistance in San Diego.
"The county, for such a long time, has been really opaque and really difficult to navigate because we had a different kind of leadership at our Board of Supervisors that was not focused on the economic and social rights of all San Diegans and were not focused on expanding access to basic things that everyone deserves and everyone has a right to, like food and shelter," Lawson-Remer said.
When P100 ended, former ACLUF-SDIC Legal Director Jordan Budd, who filed the first lawsuit against P100, pointed out Lawson-Remer was no stranger to the ACLU. She was a plaintiff in another ACLUF-SDIC case against the City of San Diego when she was in high school.
Budd, now a law professor at the University of New Hampshire Franklin Pierce School of Law, said he was surprised when he heard Lawson-Remer was now on the formerly conservative-leaning San Diego County Board of Supervisors.
"I just about fell out of my chair when I saw that one of the new members who voted to overturn the policy was Terra Lawson-Remer, because Terra was one of my clients in the 1990s in the ACLU's successful challenge to the San Diego curfew ordinance," Budd said. "She was a high school student at the time. The idea that one of my high school students would be the one who would ultimately bring an end to Project 100% that was well beyond anything I could have possibly dreamt."
Edward Sifuentes is senior media and communications strategist for the ACLUF-SDIC. Alison Ross is communications coordinator and strategist for the ACLUF-SDIC.
[Read Blog: The Legal Battles Against Project 100%]