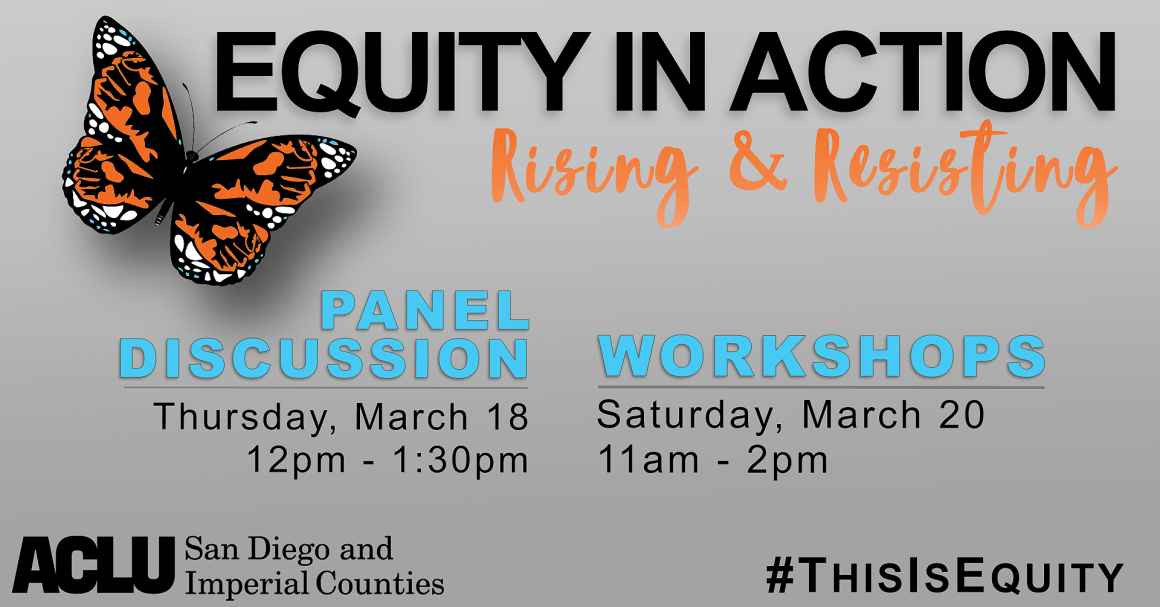 Virtual Conference via Zoom
Equity in Action is designed to enhance your knowledge of social justice issues affecting our communities, sharpen your leadership and advocacy skills, and connect with diverse activists to Rise and Resist together!
Thursday Panels
Thursday's program will feature two provocative panel discussions between newly elected leaders and frontline activists on the role of grassroots and community-led movements in shaping our political landscape; the future each envisions for the communities they serve; and our potential to achieve meaningful change when We the People rise together to resist injustice, inequality and exclusion. 
First Panel Discussion with Elected Officials

Moderator: Norma Chávez-Peterson, ACLU-SDIC Executive Director

Hon. Sean Elo-Rivera, San Diego City Councilmember 

Hon. Terra Lawson-Remer, San Diego County Supervisor 

Hon. Raul Ureña, Calexico City Councilmember 


 

Second Panel Discussion with ACLU Volunteer Leaders

Moderator by Gracie Uriarte, ACLU-SDIC Lead Organizer 

Campbell Kirby 

Shirin Raiszadeh 

Jasmine Young 
Thursday Panel Speakers Bios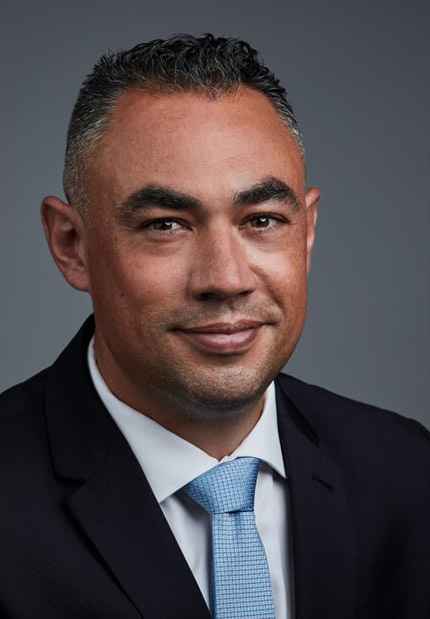 Councilmember Sean Elo-Rivera (pronouns He, Him, His) proudly represents San Diego's 9th City Council District and is committed to the realization of his vision of "Opportunity for All." Before being elected in November 2020, Councilmember Elo-Rivera served as an elected member of the San Diego Community College District Board of Trustees and as the Executive Director of Youth Will where he worked to create a future where every young person is happy, healthy and prepared to reach their potential. He previously spent time leading community organizing, policy and civic engagement efforts at a local nonprofit. Councilmember Elo-Rivera came to San Diego to attend California Western School of Law where he focused on Creative Problem Solving and earned honors for his Pro Bono service while earning his Juris Doctor. He continues to be shaped by his early career as a high school athletics coach as well as his years spent volunteering and teaching abroad in South America and Korea. Family is very important to Councilmember Elo-Rivera who grew up in a large family of seven with his parents, a brother and three sisters. He also loves traveling and dining with his wife, Angela and early morning trips to the beach with their dog, Lexi.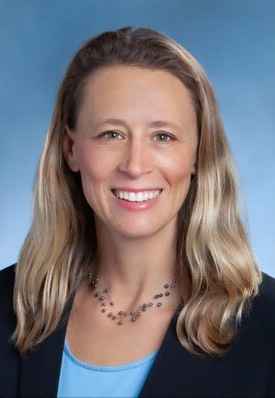 Supervisor Terra Lawson-Remer (pronouns She, Her, Hers) represents District 3 on the San Diego County Board of Supervisors. She is a third-generation San Diegan, who served as Senior Advisor in the Obama Administration developing environmental policies to cut pollution from oil drilling and mining. Supervisor Lawson-Remer has worked around the world to create jobs, restart businesses and generate economic activity after a crisis as an economist with the United Nations and World Bank.
She has a proven track-record of environmental leadership. Supervisor Lawson-Remer is fighting to protect our open spaces from sprawl development and our communities from traffic congestion by implementing a bold County Climate Action Plan to fight climate change and create new economic opportunities for local businesses and workers. 
 After graduating from La Jolla High and Yale, she earned a full scholarship to law and graduate school, receiving her PhD and law degree from NYU.  Supervisor Lawson-Remer is also a certified emergency medical responder (EMT), and in her free time she takes kids on backpacking trips to teach teamwork, personal resilience, and respect for nature. 
Today, she lives in Encinitas with her daughter Eevakai.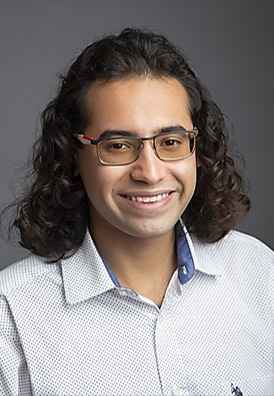 Councilmember Raul Ureña (pronouns He, Him, His) is one of the few progressive councilmembers in the city of Calexico. He holds a BA from UC Santa Cruz, specializing in statistics and international commerce. Councilmember Ureña  previously worked in the Microbusiness Department at Calexico Neighborhood House. During his time there, he worked with Assemblymember Eduardo Garcia to legalize and regulate home food businesses (AB 626) to make owning a business more legal and accessible to the community. Currently, Councilmember Ureña is advocating for farmworkers housing. He knows the injustices that farmworkers go through, like avoiding drinking water for hours because of the lack of restrooms, yet, despite having health conditions like diabetes.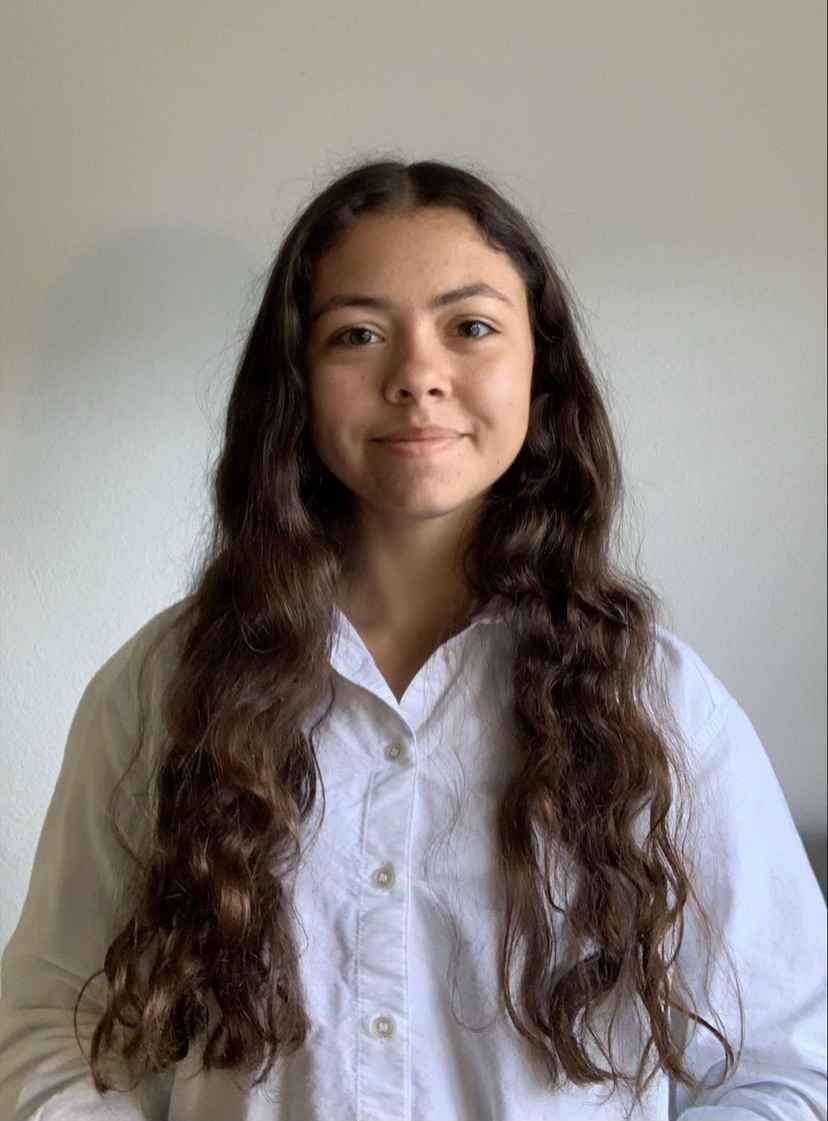 Campbell Kirby (pronouns She, Her, Hers) is a junior at Eastlake High School with a passionate interest in activism and public outreach. Born in Freehold, New Jersey, she is the oldest of three siblings in a military family and has lived in  Naples, Italy, Omaha, NE and Norfolk, VA. Kirby first became involved with the ACLU-SDIC in September of 2020 and is an active member of the South Bay Precinct Captains group.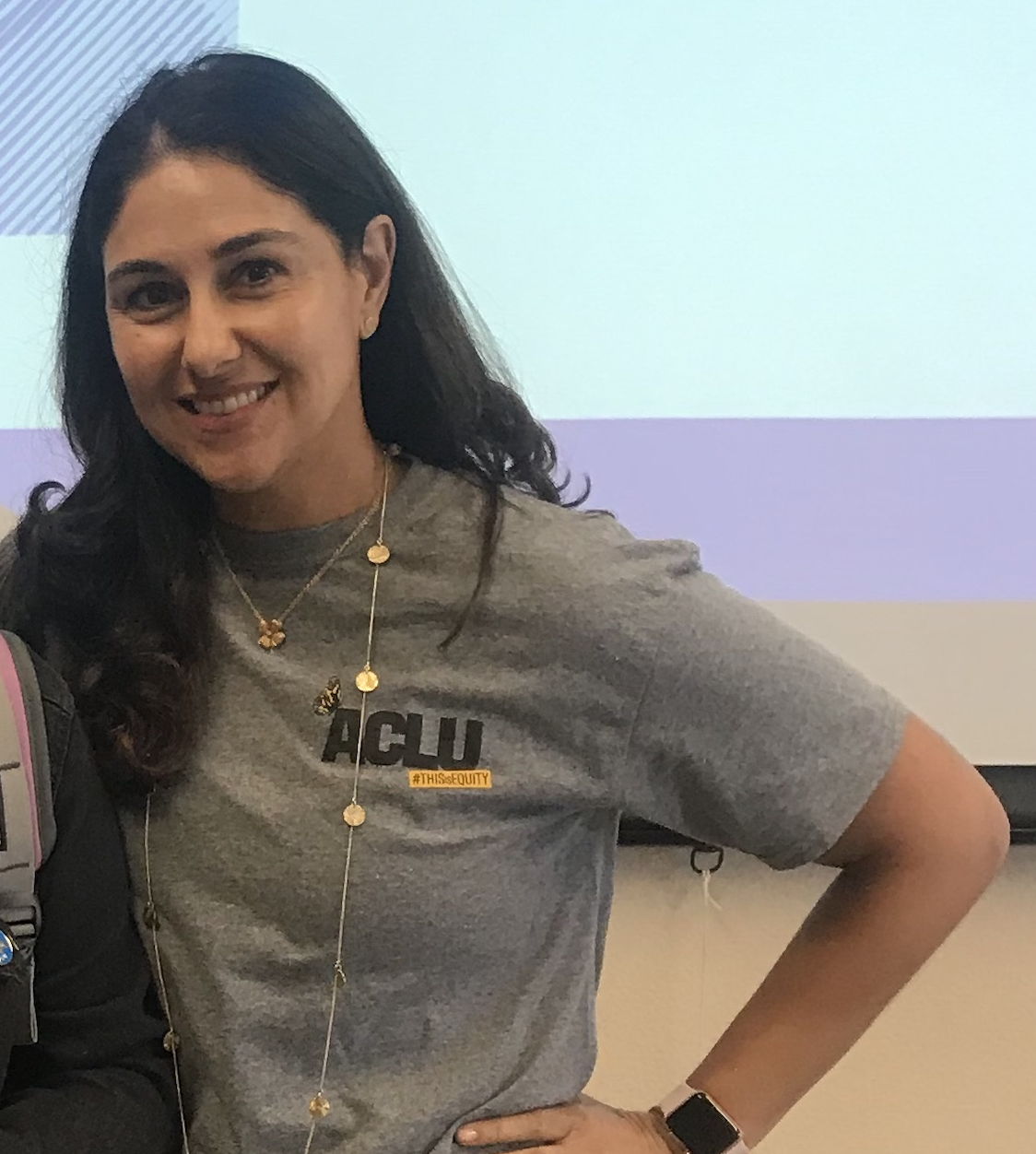 Shirin Raiszadeh (pronouns She, Her, Hers) is an East Coast native, where she realized her passion for public service in high school while serving as a Congressional Page in the US House of Representatives for her local congressmember. Raiszadeh was a government and sociology major at the University of Virginia and developed a special interest in criminal justice research. While a law student at Fordham University School of Law in NYC, she interned at the Crown Prosecution Service in London England, where she was first exposed to the criminal justice system and trial advocacy. Upon graduation, Raiszadeh worked at the Bronx County District Attorney's office as well as the Office of Special Narcotics in the Manhattan DA's Office. She has been a North County Precinct Captain since January 2019. Raiszadeh has a keen interest in all civil liberties issues, particularly police accountability and transparency.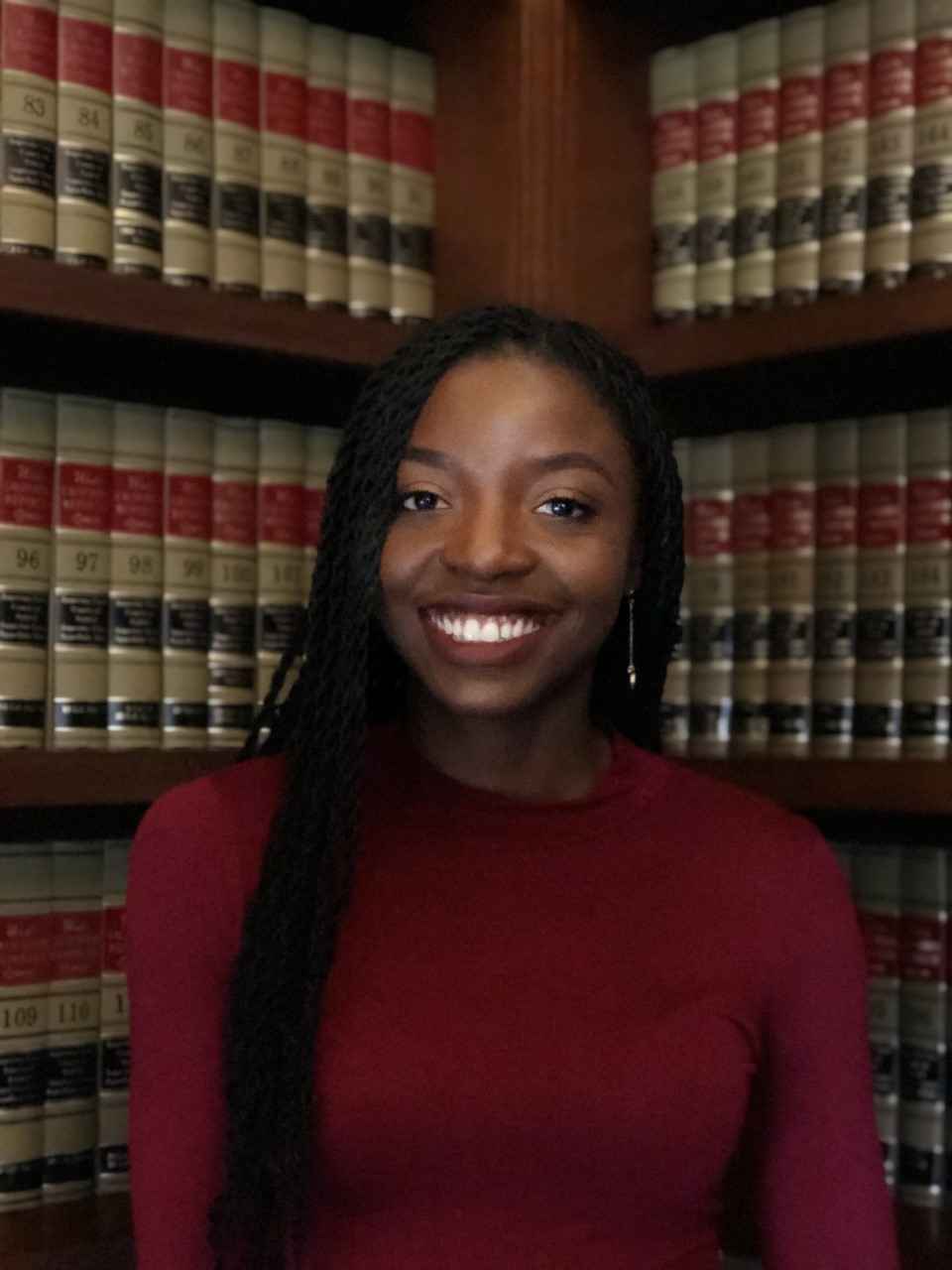 Jasmine Young (pronouns She, Her, Hers) was born and raised in San Diego. She has been an ACLU Precinct Captain for the San Diego Central team since 2019. Young earned her bachelor's degree at San Diego State University, double majoring in political science and criminal justice. During her time at SDSU, she competed as a student-athlete, was involved in many student organizations, and interned for two congressional members and the San Diego Housing Commission. As an undergraduate, Young discovered her passion for protecting and advocating for the civil rights of BIPOC communities. This inspired her to pursue a law degree. Young currently attends California Western School of Law and has interned at many community focused organizations such as the Community Law Project and Community Advocates for Just and Moral Governance. She hopes to pursue a career focused on advocating for the civil rights of BIPOC through impact litigation, policy advocacy and writing.
Saturday Workshops
On Saturday, there will be two workshops to broaden and deepen your knowledge of social justice issues affecting our diverse region and opportunities to join with others to rise and resist together for a more equitable San Diego and Imperial Valley.
The Urgency of Now: Addressing Biased Policing - Join the ACLU-SDIC for a workshop on biased policing where we will cover the data behind biased police practices, local and statewide bills that address policing issues, and share actions you can take to support local efforts to #EndTheStops.
The Board of Supervisors: New Opportunities for Change - Learn about the importance of doing advocacy at the county level as we dive deeper into the role of the San Diego County Board of Supervisors. The ACLU-SDIC will share past wins and provide an update on new opportunities for you to join us in advancing equity for all San Diegans.